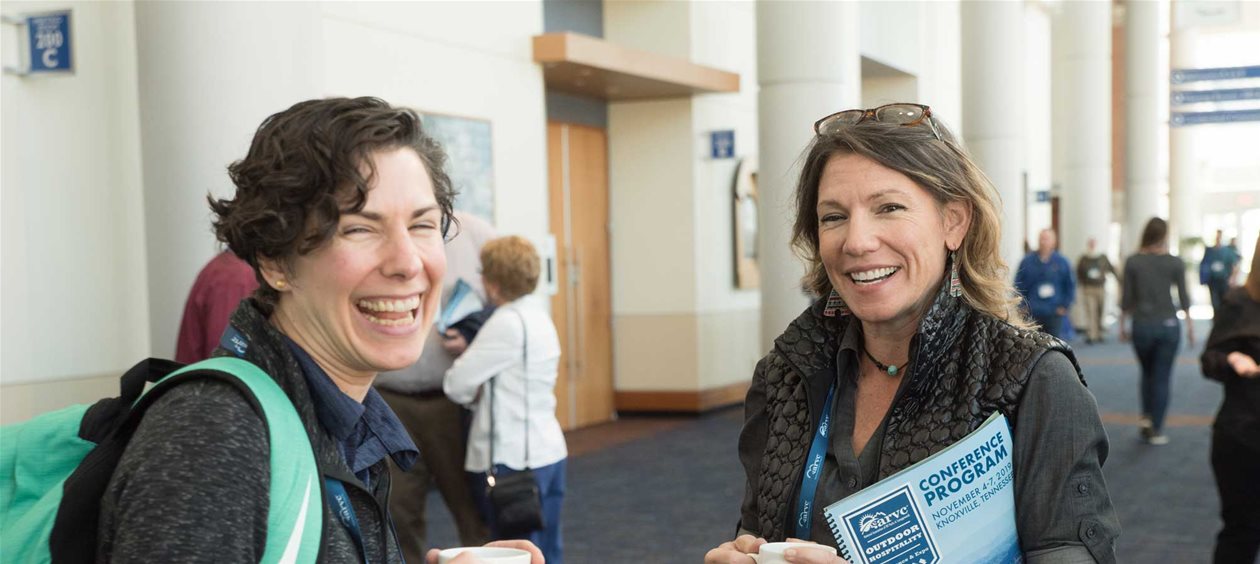 OHCE2020 Kicks Off with Virtual Takeaway Tours and Hosted Buyer Meetings
OHCE2020 Kicks Off with Virtual Takeaway Tours and Hosted Buyer Meetings. Education Sessions. Reservation Management Panel To Highlight Second Day of Conference
November 2, 2020
The 2020 Outdoor Hospitality Conference and Expo (OHCE) opened online yesterday, with more than 750 attendees registered for the first day of the National Association of RV Parks and Campgrounds' (ARVC) annual conference.  
The opening day saw large crowds logging in to the virtual platform for virtual Takeaway Tours of three ARVC-member parks and the debut of ARVC's new Hosted Buyer Program, which matched pre-approved OHCE attendees with exhibitors for meetings, replicating the true one-on-one nature of the expo floor. 
"OHCE got off to a great start today and we are primed for a fantastic week," says Paul Bambei, ARVC president and CEO. "Transitioning to a virtual event was necessary, but also challenging. We are so happy that our attendees flocked to the conference on this opening day and were able to have positive interactions and see the power of technology to bring people together for this event. Folks were able to login today and get familiar with the platform, to ready themselves for the busy, productive and fun week ahead!" 
The first round of over 650 pre-scheduled Hosted Buyer Program meetings got off to a flying start, with attendees joining exhibitors for one-on-one meetings and getting a sneak peek at the Expo floor. The chance to do business all week during the conference allows campground owners to find solutions to the issues at their park, while saving time and money by streamlining the process. All registered attendees will have access to the Expo floor on Thu., Nov. 5 from 11am-5pm EST.  
The conference opened with all attendees being able to watch on-demand videos of Jolly Roger RV Resort, Nature's Resort RV Park, and Cross Creek RV Resort. A live question and answer session, hosted by OHCE speaker and industry expert Gary Quigley, OHE owner of ARVC member-park Yogi Bear's Jellystone Park at Kozy Rest in Harrisville, Penn., followed in the afternoon, allowing attendees to ask and receive live answers to questions about the parks. ARVC worked with the Florida Association of RV Parks and Campgrounds (Florida ARVC) to select parks in the state, as OHCE2020 was scheduled to take place in Daytona Beach, Fla., prior to the switch to a virtual event. 
"The Takeaway Tours were an awesome start to the week, allowing us to virtually check out some parks in Florida," says Paula Horwitz, ARVC executive director of education and events. "The videos gave attendees insight into how the parks worked and sparked some great discussion. We owe a huge thanks to all three parks for letting us virtually swing by. Gary Quigley was superb as host, getting into the details and asking the park owners detailed questions about their parks to help our attendees take lessons back to their parks!" 
The second day of the conference takes place tomorrow, beginning with the Opening General Session which will feature Bambei taking a behind-the-scenes tour of the new Jellystone Park at Larkspur, a Sun-owned, LSI-branded property in Larkspur, Colo. The day will see the first two education sessions of the event in the afternoon, with 16 speakers on the docket, along with the must-see Reservation Management Panel, featuring a Q&A with eight representatives of the top companies in this competitive and vital market.  
Throughout the day, ARVC will also be announcing the winners of the Small Park of the Year, Plan-It Green Parks of the Year and Supplier of the Year during sessions, along with entertainment breaks featuring performing acclaimed recording artists presented by BMI. 
"We are ready for an amazing day tomorrow, full of education, events and excitement!" says Horwitz. "As with any new event, we had a couple of issues to work out on day one, but we are now rolling into the week full speed ahead. There is so much information and action for our attendees to check out, and we are so excited that they literally won't have to miss a moment or session, thanks to the on-demand recordings! And if you're feeling like you missed out, don't worry, you can still get access to all of this great content afterwards." 
The ARVC Foundation Silent Auction also opened on Monday and runs through Thu., Nov. 5, allowing bids on over $35,000 worth of items to raise funds and awareness for those in need throughout the outdoor hospitality industry, specifically through scholarship and disaster relief grants. View descriptions of all the items up for auction on the secure silent auction website here: https://www.32auctions.com/ARVC-Foundation2020. The silent auction will be live all week, allowing plenty of time for those interested to research and make bids. Anyone can make a bid, not just OHCE attendees. 
OHCE2020 is a four-day virtual event held annually by ARVC. This year's event includes more than 25 educational seminars, a trade show with more than 80 vendors, Takeaway Tours, ARVC's Awards of Excellence, a Reservation Management Panel, the ARVC Foundation Silent Auction and more. Visit arvc.org/ohce for more info. OHCE2021 will take place in Raleigh, N.C. From Nov. 8-11, 2021.