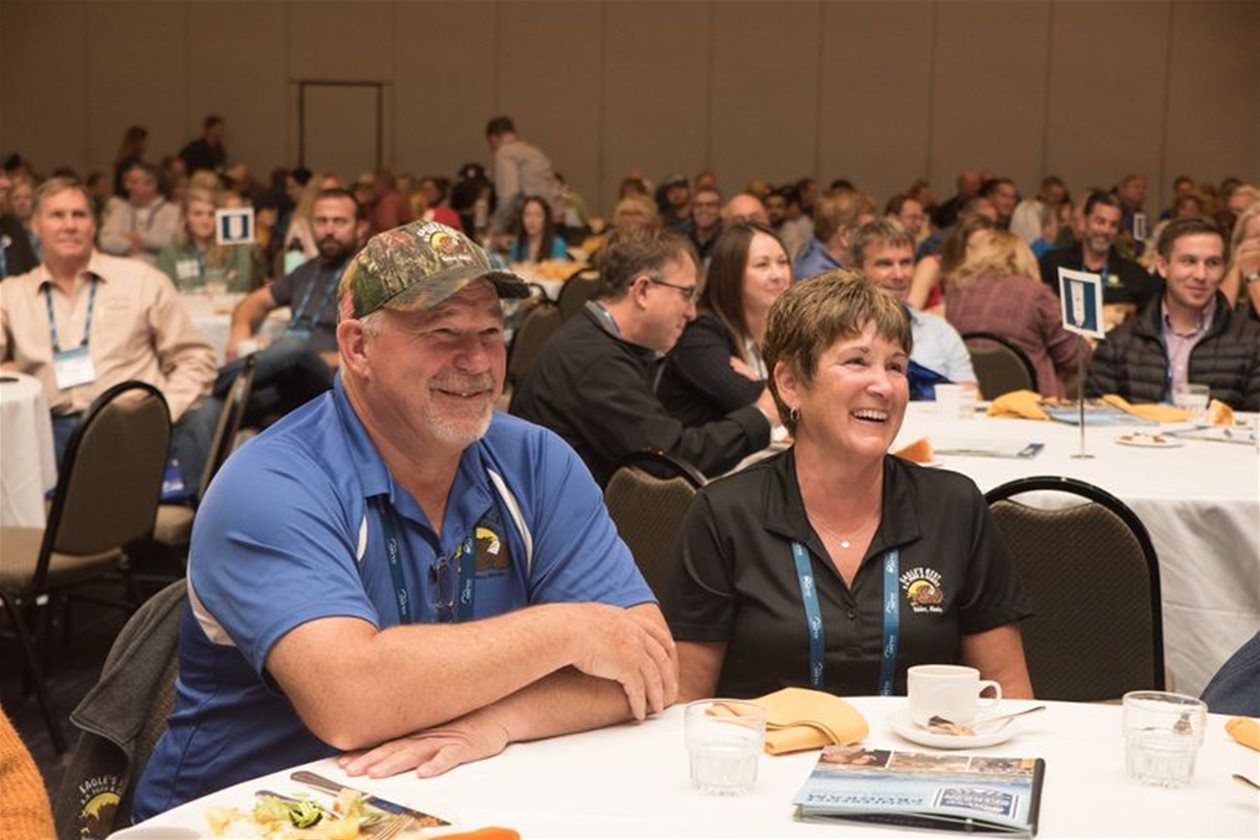 OHCE2020: Education Sessions, Reservation Management Panel Take Center Stage on Day Two
OHCE2020: Education Sessions, Reservation Management Panel Take Center Stage on Day Two. Keynote Speaker Gretchen Rubin and ARVC Awards of Excellence On Deck
November 3, 2020
The second day of the 2020 Outdoor Hospitality Conference and Expo (OHCE) was highlighted by a tour of campgrounds across the country during the Opening General Session, the always-popular Reservation Management Panel and the first two education sessions of the week. It was a busy day, with the conference attracting more than 5,085 visits from 543 unique visitors to the virtual site so far during the first two days of National Association of RV Parks and Campgrounds' (ARVC) annual conference. 
The virtual event opened on Tuesday with ARVC President and CEO Paul Bambei jumping in an RV to visit Jellystone Park at Larkspur, a Sun-owned, LSI-branded property in Larkspur, Colo. Bambei discussed the new property with general manager Eric Wood and then checked in with park owners from across the country to get a pulse of the state of the industry following a year filled with many highs and lows. The sentiment was generally one of positivity in the face of challenges, with excitement about the increased interest in camping and the strength of the industry, tempered by an understanding that the COVID-19 pandemic is still a reality. 
"Our Opening General Session sets the tone for the conference, and there is no one better to hear from than our great campground members around the country," says Bambei. "We are fortunate to have a great park like Jellystone Park at Larkspur in our backyard here in Colorado, but we wanted to hear from parks of all sizes and areas across the country, like we typically do at in-person OHCEs. Through the magic of technology, we were able to do that, and we are impressed by the resiliency and positive attitudes of our members, as they faced this once-in-a-lifetime challenge head on and responded by finding a way to thrive." 
The new OHCE Hosted Buyer Program continues to be a hit, with over 1,740 individual visits to meeting rooms taking place through two days, as a lead up to the Expo on Thursday. Hosted Buyer meetings will continue through Thursday, extending the amount of one-on-one meeting time between attendees and exhibitors. 
The day also saw the first two education sessions of the event, with 16 speakers sharing key insights and best practices across five learning tracks, before the always-popular Reservation Management Panel took center stage. The panel saw eight representatives of the top companies in this competitive and rapidly growing market answer attendee questions, highlighting what sets their companies apart from the rest. 
"We know how important reservation management systems are to our members, so this session has become a must-see event," says Paula Horwitz, ARVC executive director of education and events. "Attendees have the chance to ask questions of these eight companies and compare them in real time, which is something you never a get a chance to do outside of OHCE. It allows them to see the strengths of each company and see how the technology fits with their park. These owners can then engage directly with the companies of their choosing during the Expo or Hosted Buyere portion of the event, asking follow-up questions and potentially making the choice to purchase a new reservation management system. 
ARVC also announced four ARVC Awards of Excellence winners during the day, including Beaver Dam Campground in Berwick, Maine taking home the Small Park of the Year award.  
The Plan-It Green Friendly Park awards were also announced, honoring excellence in parks that utilize environmentally-friendly practices and promote green ideals, with Yogi Bear's Jellystone Park at Kozy Rest in Harrisville, Penn. repeating as the winner in the Small/Medium category and Evergreen Campsites & Resort, in Wild Rose, Wisc. claiming the Large/Mega category. Following the Reservation Management Panel, CampLife was named the ARVC Supplier of the Year. The Mt. Juliet, Tenn.-based company claimed the award for a second-straight year. 
"The ARVC Awards of Excellence announcements are always a highlight of OHCE," says Bambei.  "These parks and businesses represent the pinnacle of our industry, and we love getting the chance to recognize them in front of their peers this week – and we can't wait to award the rest tomorrow." 
The remaining ARVC Awards of Excellence will be announced during sessions on Wednesday, including a special awards session presentation that will begin at 1:30pm EST. 
The third day of the conference will be highlighted by Keynote Speaker Gretchen Rubin, one of today's most influential and thought-provoking observers of happiness and human nature. The bestselling author will focus on resiliency and finding the positive attitude to overcome adversity. The final education sessions of the week will also take place, with nine speakers set to engage with attendees, along with entertainment breaks featuring acclaimed recording artists presented by BMI. 
The ARVC Foundation Silent Auction, which opened on Monday and runs through Thu., Nov. 5, will stay open for bids on more than 39 donated items to raise funds and awareness for those in need throughout the outdoor hospitality industry, specifically through scholarship and disaster relief grants. View descriptions of all the items up for auction on the secure silent auction website here: https://www.32auctions.com/ARVC-Foundation2020. The silent auction will be live all week, allowing plenty of time for those interested to research and make bids. Anyone can make a bid, not just OHCE attendees. 
The day will close with Area Town Hall meetings, as ARVC members will gather to discuss their region's business and governance, and the ARVC Young Professionals meeting. Election results for the races for ARVC Board of Directors Area Representatives and the ARVC YP Co-Chair will also be announced at these meetings. 
"We are ready for another amazing day tomorrow, full of education, awards and fun!" says Horwitz. "There is so much information and action for our attendees to check out, and we are so excited that they literally won't have to miss a moment or session, thanks to the on-demand recordings! And if you're feeling like you missed out, don't worry, you can still get access to all of this great content afterwards." 
OHCE2020 is a four-day virtual event held annually by ARVC. This year's event includes more than 25 educational seminars, a trade show with more than 80 vendors,?Takeaway Tours,?ARVC's Awards of Excellence?dinner, a Reservation Management Panel, the ARVC Foundation Silent Auction and more. Visit arvc.org/ohce for more info.?OHCE2021 will take place in Raleigh, N.C. From Nov. 8-11, 2021.